If you are the kind of person who likes to stick to just one brand that is capable of offering a wide range of underwear for men, then you must take a closer look at Key collection of menswear. The brand offers a variety of bikini swimwear, boxer brief underwear, jock strap underwear, and brief underwear and has been launched with a single point agenda -to offer men what men really want! Key range of underwear for men is meant for those men who cannot settle for simple prints and patterns. If you like unusual designs, great cuts and unique colors, then Key can offer you all of that and much more. The way Key likes to do things is design cuts and patterns that are innovative and exciting.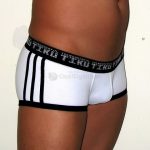 The Key range of underwear conforms to the male body and accentuates their package exactly the way they desire. The fabric used for designing Key underwear is of the highest quality and does not shrink or wear and tear easily. Key places a lot of importance to crafting underwear for men of all shapes and sizes, which is why the wearer is able to find a size of his choice easily.
Key underwear can keep your package in place and make you feel extremely comfortable. Key underwear is fun, stylish and remarkable in every sense! Designers at Key also pay a lot of attention to waistband styles so that men can choose from amongst different styles. Again, the material used for designing the waistband is of the highest quality and speaks volumes about the brand. The inner portion of the waistband is smooth and soft and will never itch, hurt or bother the wearer. The seams on Key underwear are flat stitched and offer a great deal of comfort. Whether you are planning to don stylish underwear and look sexy and appealing or you are in the mood to just relax at home, Key can offer you a wide selection. Key offers great patterns, unique cuts and exceptional designs and colors that can leave any wearer speechless.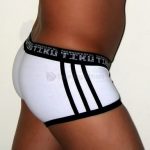 The product discussed here is Key Undergear Tiku Low Cut Boxer Brief 3 Stripes. This low rise underwear is for men who yearn to look, hot and sensual. It is extremely comfortable and is crafted using fabric, which is essentially a mix of 95% cotton and 5% spandex.
You can place orders for Key Undergear Tiku Low Cut Boxer Brief 3 Stripes and other brands of underwear at DealByEthan.