NY Jox is for those men who cannot settle for just about any type of underwear. It is fun, bold, daring, crazy and fashionable all at the same time. The brand offers a wide selection of apparels including, Jock Strap Underwear, Long Sleeved T Shirts, Muscle Top T Shirts, Shorts, Tank Top T Shirts, embroidered Air Force Jock, embroidered Army jock and lace up jock among others.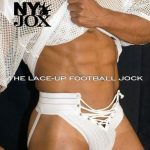 The designers at NY Jox believe in offering the wearer a wide range of clothing so that they are able to wear what they think is best for them. No matter what the occasion, NY Jox has something or the other in store for you and all you need to do is grab it. NY Jox clothing is churned from fabric of the highest quality and the brand also pays a lot of heed to the design, cuts and patterns at the time of designing any particular apparel. Whether it is about designing waistband or leg straps for underwear or having the right kind of collar for the t-shirts, the designing team at NY Jox puts in a lot of hard work and labor to create designs and cuts that have not been tried by anyone else before.
NY Jox collection of clothing for men is very soft, smooth and flexible and offers amazing fit. All the success that they have accomplished has happened only through hard work and dedication. Again, if a wearer was to look at the design of the pouch of underwear, then he would find it difficult to ignore it. This is because the pouch offers enough room and is very breathable. The pouch is stitched to give the wearer's package just the amount of lift that is required. What else can a wearer ask for? Nothing can match the fun and satisfaction that one derives out of wearing underwear that is so comfortable.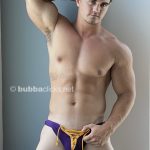 The jockstrap range introduced by NY Jox is simply amazing! It comes with a logo that has been aesthetically embroidered on it and comes with a plush underside that allows the wearer to experience comfort wherever he goes. The product being discussed here is NY Jox Lace Up Football Jock Strap Low Rise Swimmer Band All American Underwear. This is essentially low rise style underwear.  It comes with a waistband that is never too tight around the waist. In fact the ¼ inch non binding waistband makes the underwear look more unique and admirable. It comes with contoured stretchable pouch that offers enough ventilation, support and appropriate amount of lift.
You can place your order for NY Jox range of menswear on DealByEthan which provides exciting discounts and offers!