Jockstraps have become the favourite underwear style due to its high form and function factors. Designed to flatter the masculine form in the most sensual manner it is widely popular as alluring everyday underwear among many smart and confident men all across the world. Amidst the wide variety of popular menswear brands, CellBlock 13 is the most popular because of its erotic and sensual jockstraps in wide range of styles, cuts and colours.
Headquartered in Los Angeles, CellBlock 13 is a new fashion label launched by Timoteo Ocampo, the designer and creator of the Timoteo fashion house in 2012. This American fashion brand prides itself for offering designs that bring together fetish and fashion. Drawing inspiration from athletic apparel, their designers translate their ideas into fetish style themes. Most importantly, paying close attention to comfort, fit, quality and fashion, their underwear line can be worn for all kinds of situations, be it every day wear or for special occasion. Besides specialising in jockstrap underwear, it also provides bodysuits, boxer brief underwear, brief underwear and long boxer brief underwear for men.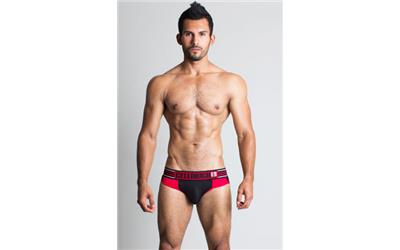 If you are a fan of jockstraps, give CellBlock 13 Fugitive Jock Strap Underwear a try – a sporty new jockstrap underwear style from CellBlock 13. Available in eye catching vibrant shades of red, yellow and blue, this fashion house emphasizes how underwear need not include only dull and boring blacks and whites. The use of top quality microfibre fabrics in its construction ensures a body contouring fit, as well as stretch capability not seen in any branded undergarment. At the same time, it also makes it possible for the wearer to enjoy his sports and athletic activities.
Made out of a high quality mesh, the comfortable front pouch is able to frame your assets in the most flattering manner due to its contour pouch design! Offering comfort and support all day long, the thick and durable rear straps ensure the underwear remains snugly fitted to your body. With the CellBlock 13 logo distinctly visible on the front of the elastic waistband, this jockstrap is apt for fashionable men who are naturally good looking or work hard to look good.
Are you looking for your very own CellBlock 13 Fugitive Jock Strap Underwear? Pay a visit to our store now! To cater to different fashion preferences, we have available wide variety of menswear, swimwear, loungewear and men's underwear at amazing rates!