Obviously brand of underwear for men is one of the finest that is available in the market today. The brand is environment conscious, which is why most of their products are made of modal cotton that need less water in order to be produced in comparison to normal cotton underwear. Obviously does not use chemicals to make any of their products. The modal cotton fabrics that are used to design all Obviously products are made from natural and sustainable wood fibre.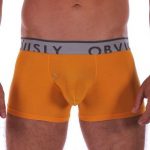 The brand is clearly meant for men who love to keep their package and assets protected. The credit for launching the brand goes to ace designers, Robert and Daniel Miljkovic. Their only intention was to provide comfortable menswear that was capable of safeguarding the wearer's assets too.
Obviously range of menswear is different from other brands in the sense that it offers extra care for the wearer's skin. Once you have slipped into Obviously underwear, you won't get that sticky feeling at all. It also helps the wearer avoid squashing feeling and he won't have to readjust your underwear at all. You will never sweat in Obviously underwear as it is made of absorbent material fibres that keeps the wearer cool as well as dry.
Obviously range of underwear come with a special pouch that is anatomically designed and allow the wearer to place his package in it. It features a U-shaped seam which in turn forms the pouch's base.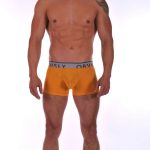 The Obviously Chromatic Low Rise Boxer Brief Underwear available in yellow color is one of their finest creations. The fabric is very soft and extra lightweight. It is made of 90% Modal and 10% Lycra. It is part of the Obviously Chromatic Collection. The anatomical design of the pouch offers a lot of comfort. The underwear comes with soft and smooth waistband and features the Obviously logo on it. It features a seamless back that ensures that the underwear does not ride up. The seams of the brief are made of very soft threads that help in eliminating rubbing. This particular brief can be safely used as daily wear. It fits perfectly well and is very comfortable and breathable.
You can find Obviously Chromatic Low Rise Boxer Brief Underwear at our website DealByEthan and enjoy exciting offers and discounts on a range of menswear!