Long underwear pants or long Johns are the most favoured underwear style during the cold winter months. Constructed from fabrics of highest quality, they are available in myriad styles, patterns, colours and designs to choose from. To cater to different fashion tastes, designers of a number of fashion houses have introduced innovative and original long Johns but among them, C-IN2 has a carved a niche for itself by producing menswear in fashionable colours and styles.
C-IN2 was founded by Gregory Sovell, the original designer of 2(x)ist in 2005. In recent years, C-IN2 Underwear has become recognized for its sexy underwear collection, which features striking colors and a wide variety of styles. Besides long underwear pants, this sexy men's underwear brands also offers stylish and functional boxer brief underwear, brief underwear, jockstrap underwear, long boxer brief underwear, long sleeved T shirts, muscle top T shirts, pants, short sleeved T shirts, tank top T shirts, thong underwear and multi-packs of men's T shirts and men's underwear.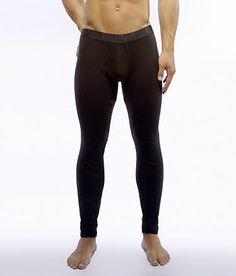 If you are in need of long underwear pants that look sexy and offer an unmatched feel and fit, C-IN2 Core Long Underwear Pants  offer you this and much more! Crafted from 100% cotton, these designer long Johns are extremely warm and soft to touch. Providing a slim fitting touch to the wearer, these designer pants are offered in two standard colours: black and white. While the fabric performs its function of absorbing moisture and remaining airy so that you stay dry, fresh and healthy, it also offers exceptional warmth and comfort from the cold outside. Designed with an extremely soft and supple microfibre waistband with the C-IN2 logo prominently printed on the front, your comfort and support levels are further enhanced due to the contoured pouch design that provides all day comfort whether you wear them to work or for your workouts. Boasting of soft leg seams, your masculine legs will experience the best in comfort and movement while you carry out your strenuous exercises.
While these long Johns might be limited in colours they are high on style, form and comfort! With the aim to provide you with cutting edge long underwear pants, these form defining and warm long underwear pants from this leading menswear brand are a must-have for any man's closet!
Do you need C-IN2 Core Long Underwear Pants? DealByEthan is the right place to visit for all kinds of C-IN2 menswear or other types of equally trendy men's underwear, swimwear and loungewear at attractive prices!