Their bold designs and look made JM jump out from the crowd of underwear brand and manufacturers in the underwear industry almost immediately as soon as they started. Its evolving into one of the biggest brands of sexy men's underwear is nothing short of phenomenal.
The JM underwear brand is family run, has been in the industry for more than 30 years and has created a reputation for its designs being modern, sexy, comfortable and sophisticated. Now this brand of men's underwear is available in many parts of the world and countries including U.S., Canada, Mexico, Asia and Europe. The brand is headed by Mr. Battah and is based in Montreal.
JM underwear manufactures a bunch of sexy apparel for men like boxer brief underwear, bikini swimwear, brief underwear, long underwear pants, jock strap underwear, short sleeved t shirts, muscle top t shirts, short swimwear, shorts, tank top t shirts, square cut trunk swimwear, thong underwear, etc.
The bikini swimwear collection of JM underwear is based on waves, and once you take a look at them you will feel as if you have been splashed by a wave of freshness. You will actually be able to feel the saltiness of the seawater from their use of vibrant colours and funky colour combinations. The look and style is quite athletic as well. They are crafted from a blend of 8% spandex and 92% nylon.
Boxer brief underwear by JM is comfortable and snugly fit without being too tight and obstructive. There is a range called EcoSkinz which is made of a blend of 9% spandex and 91% recycled polyester. Now you can save the environment as well as look great! The resultant material is unbelievably soft, comfortable and lightweight. This range has brief and jock strap styles of men's underwear as well. You can get normal styles as well in many varieties of colours and prints.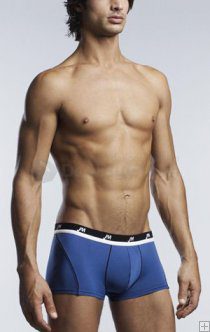 Square cut trunk swimwear of JM falls under the 'waves' collection as well and boasts of a lively use of colours and patterns. The material used is a blend of 20% spandex and 80% nylon. The style has drawstrings for adjusting the waist in case it needs to be tight or loose.
Get a taste of JM underwear by visiting us at Deal by Ethan today! We have the entire range of JM underwear and you can avail of amazing deals and discounts on a wide range of products! Hurry!