Short sleeved T shirts are must haves in every fashionable man's closet. This popular casual menswear comes in many different cuts, designs and colour palettes; along with simple looking men's T shirts in conventional colours and basic cuts and patterns, there are also a large number of funky and trendy T shirts that sport eye-catching prints and graphics. Crafted to suit men of all shapes and sizes, many smart and confident men prefer the look and feel of designer tees from the American fashion house Five Star Monkey.
Made in America, Five Star Monkey is unique and contemporary fashion label in the men's fashion market. Their exclusive collections of designer short sleeved T shirts that sport the distinctive Five Star Monkey touch from their cuts, colours to designs are widely in demand among men of all ages. Radiating "strength, perseverance and adaptability", the three important principles uphold by this brand, their short sleeved T shirts offer great comfort, an exceptional fit, irresistible appeal and everyday functionality that fashion forward men look for in their casual wear.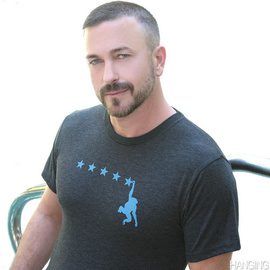 If you want to showcase your chiselled physique in designer apparel, checkout the Five Star Monkey Hanging Short Sleeved T Shirt Black, which is sure to captivate your audience with its superior fit and eye catching prints. Available in masculine black, this designer tee sports a distinctive five stars design with a hanging monkey. Like all their designer creations, the short sleeved T shirt has also been tri-blend for lasting colour and shape, and will continue to look and feel brand new even after repeated washes! Made from top quality materials, it is extremely stretchable and shapes your body to perfection, making this branded apparel apt for accentuating your curves! While providing you with a slim fitting appearance, the soft to touch fabric offers all day comfort and feels light and smooth against the skin. Sporting a contemporary design and round neckline, this quality T shirt is indeed perfect for flaunting your super-toned body at the beach, night clubs or casual get-togethers. Paired with your favourite jeans or chinos, experience comfort and quality while making a style statement!
To buy the Five Star Monkey Hanging Short Sleeved T Shirt Black or any other designer outfit, visit our store today! Here at DealByEthan, we have all kinds of Five Star Monkey menswear and other trend-setting men's underwear, loungewear and swimwear on offer at amazing prices!