Shelf Life Clothing is one of those brands of menswear that is evergreen and can be worn ever after the passage of a decade! If you abhor the normal, plain and dull and always on the lookout for something different, unique and fun, then the range of men's clothing designed by the company is the one for you!
The company is based in Cleveland and the designs and concepts of the graphic tees are created by Brian Kirby, who is their chief designer. In fact, one of the main advantages that the brand provides is that they actually listen to what the clients have to say and change the prints and their productions accordingly.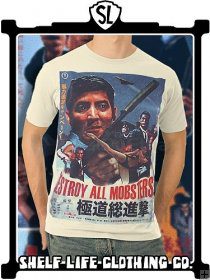 The main inspirations behind the varied graffiti and logos of the t shirts are Hong Kong, Bollywood and Japanese cinema, and their pop culture imagery as well as 60s spy movies, eurotrash cinema, vintage rock album arts, etc. The main point behind the various motifs used by Shelf Life Clothing is to pay tribute or homage to those who are unsung. The company also makes it a point to satirize delusional behaviours and commonplace ideas.
Shelf Life Clothing manufactures products like short sleeved t shirts, short sleeved shirts, sweaters and cardigans. The shirt by Shelf Life Clothing is polo shirt and has the usual bold graphics.
The variety of short sleeved t shirts Shelf Life Clothing has is truly mind boggling! Almost 50 different types of shirts with different graffiti and logos are available. The t shirts are unisex and thus suitable for both men and women, so women do not need to fret! 100% organic cotton is used to craft the t shirts which make them unbelievably soft and comfortable.
In the sweaters and cardigans department, there are two basic choices- jackets and sweatshirts with hoods. Shelf Life Clothing does not believe in the fact that just because they are meant to warm up our bodies they have to be simply functional or (in other words) boring! These articles of clothing also have interesting logos on them. They are constructed of 100% California fleece cotton. Some of the articles have reinforced collar and double stitching so that despite repeated washings the shape stays the same.
Get a better view of the products of Shelf Life Clothing by visiting us at Deal by Ethan today and get amazing discounts as well!