If you thought that all men's underwear come with restrictions on how sexy and daring they are, think again! Delio Dietz underwear comes with only one restriction- only the brave, confident or bold can wear it!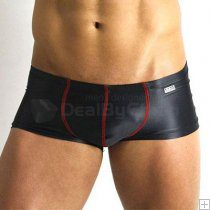 The origin of the brand lies in Switzerland, and the brand arrived in the beautiful land of Brazil around the 1970s, with a swimwear store officially opened in 1980 in Sao Paolo. Around 1998, a realization struck the owners that Mexico will provide them with better opportunities in the international market. Currently, Caio Dietz has combined his fabric expertise and Brazilian designs to give the brand a unique identity all of its own! The brand caters to all the wishes of men however, with one condition! You can wear Delio Dietz underwear only if you are man of confidence and not afraid to show the world what you are made of!
Delio Dietz manufactures a huge range of varied apparel for men including bikini underwear and swimwear, boxer brief underwear, bodysuits, brief underwear, jock strap underwear, g string underwear, short sleeved t shirts, muscle top t shirts, tank top t shirts, square cut trunk swimwear, thong underwear, etc.
The bikini underwear and swimwear made by Delio Dietz is made of lycra which makes it easy to dry after a swim or after a long day of physical activities. The material used is extremely stretchy and soft, and only the finest fabric is used. The style is available in a number of prints and colours.
Their boxer brief underwear of Delio Dietz is made of only the finest microfiber and is 2wonderfully stretchy and soft. It is comfortable and elastic enough to allow great leg movement. The workmanship is excellent and crafted with care. You can also get the style in mesh.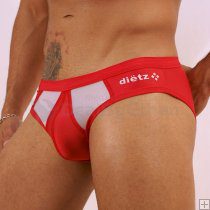 Delio Dietz brief underwear is made of polycat microfiber as well as mesh, and you can choose from a variety of materials used. Both the materials give supreme comfort and ease, and are available in a range of designs and colours. The fabrics make the underwear very light.
Even with the jockstrap underwear of Delio Dietz, you can choose from mesh or the blend of cotton and viscose, according to the taste of the wearer. The natural fibres offer comfort and stretchability.
To take a look at the entire collection of Delio Dietz underwear and swimwear visit us at Deal by Ethan today and avail of terrific discounts!