The inspiration behind the conception and designing of JS Dirty Industry lies in their T shirt designs and their popularity! The brand, which was set up in the year 2007, has scaled great heights and the uniqueness of their products lies in the fact that their collection is basically rock inspired. You get a chance to join the fashion movement which is not only stylish but environmentally friendly as well!
The range of JS Dirty Industry men's underwear varies from bikini swimwear, brief underwear, bodysuits, shorts, muscle top t shirts, loose boxer shorts underwear, tank top t shirts to square cut trunk swimwear, short sleeved t shirts, etc.
Get JS Dirty Industry bikini swimwear in a number of prints, colours and varieties! They are not only low cut but seamless as well so that they do not show underneath your low rise jeans or fitted trousers. Whatever your size may be, you will able to get the cut of your choice. The material used is 20% spandex and 80% nylon which make it quite stretchable.
To wash them properly just use a mild soap but do not bleach, dry clean or wring.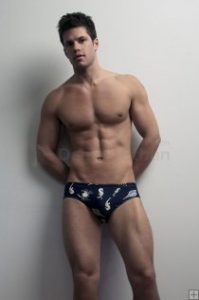 Brief underwear from JS Dirty Industry is edgy with great looks and is cut in a regular manner. It is available in a variety of prints, themes and backgrounds. The material of the underwear is such that there is no need for dry cleaning or ironing.
Do you need a bodysuit but do not know where to find the perfect pair? JS Dirty Industry has the solution! The bodysuits crafted by them is in one piece and made from 100% fine vintage jersey cotton which makes it unbelievably comfortable! They are not only trendy but classic and timeless at the same time! The stitching is expertly done!
Boxer shorts underwear from JS Dirty Industry is perfect for those who need conventionality. They are made of 100% cotton.
Other items of clothing worth mentioning are their square cut trunk swimwear, short sleeved t shirts, tank top t shirts, etc.
The best part is yet to be brought to your notice! Deal by Ethan has made underwear shopping feel like Christmas! Not only will you be getting a reduction in the price of underwear but you can even receive a pair of JS Dirty Industry brief underwear as well!! And at no extra shipping charges!! So, visit our online store right now before everybody else grabs them!