XLX Collection is an Italian import in the world of fashionable men's underwear and has created a unique identity of its own with their sophisticated and provocative line of menswear. The main feature of the line is its appeal on the slightly fetishist side of human nature. Other features that make the underwear indispensible are excellent construction and the use of comfortable and soft fabric.
The styles of menswear and men's underwear that can be got under XLX Collection include brief underwear, boxer brief underwear, thong underwear, jock strap underwear, muscle top t shirts, etc.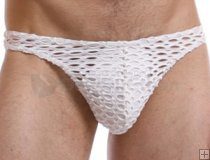 The boxer brief underwear of XLX Collection can be of various types like ones with abstract prints, wide net boxer brief, strap boxer brief underwear, sheer camo pouch underwear zipper boxer brief, etc.  The printed ones are available in graphic psychedelic colours! The zipper boxer brief has a zipper running down right its middle which is its main feature. The material used is a mix of 4% elastane and 96% polyamide nylon. The strap front boxer has straps and it consists of a material that is a blend of 20% elastane and 80% polyamide nylon. The wide net boxer is breathable, soft and sexy, not to mention totally unique!
The colour scheme of XLX Collection's brief underwear is mainly predominated by browns and blacks, and the underwear is a wonderful mix of sheer, mesh, net and straps which make it sexy and provocative to the extreme! The material used is predominated by nylon.
XLX Collection's jock strap underwear is entirely lace up, which adds to the unique quotient of the underwear. The pouch is super sexy and made of a mix of 12% elastane and 88% cotton which makes it super comfortable and breathable.
The thong underwear of XLX Collection has many variations like their fully covered thong with abstract prints, wide net ones in different colours, and thongs with mesh pouches in different colours. The wide net thong is made of a mix of 8% elastane and 92% nylon, mesh pouch one made of a mix of 12% elastane and 88% cotton while the abstract printed ones are made of a blend of 20% elastane and 80% polyamide. It is quite apparent from the use of materials that the underwear is soft and stretchy.
For a look at the latest and best of XLX Collection visit us at Deal by Ethan today!!