The underwear and swimwear brand Southern Exposure belongs from Florida and has been in the fashion industry for more than a decade under the guidance of Jay M. Levy who is the master mind behind the conception of the company as well as the CEO and president of the company. The credit of producing some of the hottest swimsuits and underwear that the world of fashion has seen goes to the team of Southern Exposure! In the time that the brand has been in the industry, it has built a reputation for itself for producing bold, uninhibited and risqué collection of apparel.
The bikini swimwear collection of Southern Exposure is pretty unique and bold. Not only is the cut daring and bold, but the use of prints and colours is unique and creative as well. Choose from their solid coloured or printed lines. The prints of their swimwear are varied like wild jungle, wild animal, tropical, oceanic, cheetah prints, etc. This variety reflects the varied moods as well as the choices of men. Some of them give a wet look courtesy the antron lycra used, which gives a leather looking rich shine, turning the heads of all and sundry! Some of them even have a bronze finish to them.
The square cut trunk swimwear of Southern Exposure has varieties as well which can make your head spin. The fit of the swimwear is tight and perfect which highlights all the great attributes of the wearer's physique. The suit has been designed perfectly and is available in a wet look as well. The cut is short styled, and comes with a drawstring with which the fit can be adjusted accordingly so that the swimwear is not too tight or too loose! Get selecting on which colour you want from a wide range!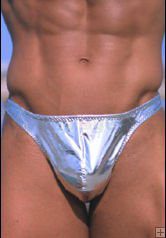 Their thong swimwear is perfect to be flaunted amongst the crowds and even among thousands you are sure to stand out with the exquisite material used as well as the wonderful use of colours. The unique mix of colours has resulted in the thong swimwear manufactured by Southern Exposure being labelled as art! So, if you are confident of your body and love the fact that it will be admired by others, then thong swimwear by Southern Exposure is the ultimate choice.
Visit us at Deal by Ethan today to get a 3% discount on all items and products of Southern Exposure. Hurry before you miss out on your favourite pair!!