The Spanish clothing brand for male XTG Extreme Game, is the brainchild of Luis Mentado and is made and arrives from Canary Islands. The influence of the designs for underwear and other menswear are taken from masculine themes like prints of skulls, adult comics, tattoos and vivid colours. The main features of design line are the original and spectacular motives as well as the madness that the designer exhibits. The line is exciting, exquisite and fresh and is aimed to flatter the male body. The main focus of attention of the products of XTG Extreme Game is the modern and dynamic man who wants innovation but at the cost of comfort.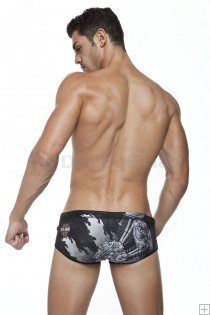 The huge range of products produced by the brand include armbands, bikini swimwear, bags, boxer brief underwear, boardshorts beachwear, hats, bags, brief underwear, long underwear pants, long sleeved t shirts, muscle top t shirts, short sleeved shirts, pants, shorts, short sleeved t shirts, square cut trunk swimwear, shorts swimwear, tank top t shirts, sweaters and cardigans, towels, etc.
There are various collections of each style depending on the cut and use of patterns and colours. The bikini swimwear is crafted from a blend of 15% lycra and 85% polyamide. There are various collections like DEAN, CAPTAIN, SPACE, MARINE, BORA BORA, LOST ANGEL, SPUR, FUN CLUB, CICER, AUTHENTIC, HAPY, SOLDIER, SEADEEP, BESIDE, etc.
The boardshorts beachwear is made from 100% polyester material and is available in 3 ranges or collections- WANADOO, WAXX and OCEAN, according to the patterns of the swimwear.
The boxer brief collection has ranges like BLACKLETTER, FEELING, TROUBLE, THAI, GYMBOY, etc. the material used is steel microfiber, a mix of 11% spandex and 89% polyamide. The range is colourful, fun, vibrant and sporty.
The brief underwear of XTG Extreme Game comes in ranges like GYMBOY, TROUBLE, EXTREME FLAKES, THAI, OLYMPIC, LEAVEME, SURFER, FEELING, BLACKLETTER, VUDU DOLL, etc. The material used is a blend of 8% spandex and 92% polyamida.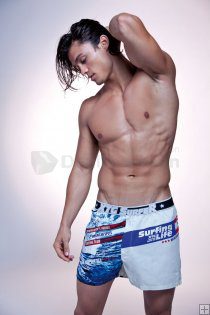 XTG Extreme Game's loose boxer shorts come in two ranges- VUDU DOLL and SURFER. The material used to craft this article of clothing is 100% cotton which will give you 10o% comfort!
The square cut trunk swimwear is available in ranges- BUZIOS, BEST, IPANEMA, COPACABANA, MOBILE, HOLY, VIETNAM, AQUARIUM AND ROLLS. The mix of 15% lycra and 85% polyamide is used to craft the clothing.
Visit us at Deal by Ethan today to take a closer look at the XTG Extreme Game products offered!