What are your plans this holiday season? Do want be in the midst of the sea surfing on the frothy waters? Do you want to make others aware of your presence? Then, get hold of Aware Soho Pride Surfers Boardshorts Beachwear! The Aware Soho line was started on Old Crompton Street in Soho (London) in the year 2001. From that time, the brand has been catering to the needs of metro sexual men.  The brand employs talented designers from UK, France, Italy, South Korea, Greece, Spain, Argentina and Japan who blend cultural aspects while producing their designs. Therefore, you will always find Soho's products the most unique of all.
Aware Soho Pride Surfers Boardshorts Beachwear appears in red and reaches up to your knees and does not tightly cling to your body. This enables free movement of the legs when you're embarked in water sports. Apart from its chic appearance, the broadshorts beachwear has a white logo patterned on the side of it. It also has a white waist string that helps to adjust the beachwear as required. It is also available in four different sizes i.e. small, medium, large and extra-large. This brand designs bikini swimwear, boxer brief underwear, brief underwear etc.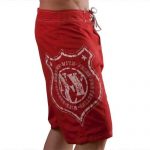 In Aware Soho Pride Surfers Boardshorts Beachwear you always find admiring eyes staring at you. It is not just the name but the designs and the quality that have made Aware Soho products popular among celebrities like Alexander Mc Queen, Domenico Dolce, Stefano Gabbana and many others who simply love Aware Soho products.
In the last few years' beachwear designs have changed a lot. More and more efforts are given to introduce rare and funky designs that get you spotted on the beach. Boardshorts beachwear was introduced with the sole intention to make you appear stylish, sexy and classy. When you are surfing on the waters, you should be the one to grab attention and not the foaming waters.
You can now order this product at our website DealByEthan that offers a variety of mens apparel at affordable prices!