Shattering the idleness and mediocrity of men's underwear is the Mosmann Underwear brand! The Australian brand was founded by 4 friends who were passionate about what they believed about men's underwear, and left the jobs that they were in. Although it is designed in Australia, Mosmann Underwear now reaches out to places and countries like U.S., China, Brazil, Japan, France, U.K., Germany, etc. Mosmann Underwear has branched out to newer countries and has maintained a glorious record of producing quality products at great prices in stylish designs.
Mosmann manufactures various kinds of products and apparel for men like bags, brief underwear, boxer brief underwear, shorts, etc.
The boxer brief underwear made by Mosmann is available in more than 40 various designs and the material used is a blend of 5% elastane and 95% cotton. However, a mix of 5% lycra and 95% modal is also used for some lines. The prints are varied and available in different, bright colours. You can choose from their simple designs as well as printed ones. The pouch offers a form-fit and lends added enhancement and support. The logo of the brand is on the waistband, and the wash labels are made of cotton to avoid any sort of irritation.
Brief underwear made by Mosmann is also available in a number of variations in colours, patterns and prints. The waistband is embossed all around with the logo of Mosmann Underwear. The fabric used is a mix of 5% lycra and 95% modal or cotton which makes the underwear smooth, light and perfect for all day use.
Mosmann Underwear's shorts are the perfect accompaniment for any kind of sporting event. The fit is close and low rise, which gives them a great appearance. The material used is 100% polyester which makes it perfectly breathable and quick drying. There are some basic colours to choose from. The style is somewhat retro, which makes the shorts specially attractive and different than the rest.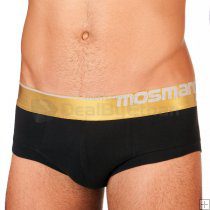 The materials used by the brand are all of superior quality, as Mosmann Underwear does not believe in compromising on product quality, which in turn offers superior comfort.
Take a look at the entire collection of Mosmann Underwear at Deal by Ethan today! Deal by Ethan offers a discount of 3% on all Mosmann products!