The world is becoming a place which may become a near about impossible place to reside in the near future due to the amount of pollution, waste and lack of conservation. It is time to wake up from our slumber and really do something that will make us proud and make the world a better place to live in. One company that has made this view its motto and ideology is Fully Stoked which supplies a variety of apparel made from sustainable, organic and ethical material. Not only that, the brand even donates nearly 30% of all profits earned for various conservation and protection projects across the globe like various environmental organisations such as Whale and Dolphin Conservation Society, Bush Heritage Australia and Chimpanzee conservation.
Fully Stoked manufactures menswear like short sleeved t shirts, short sleeved shirts, tank top t shirts, long sleeved t shirts, sweaters and cardigans, etc. Their apparels are not only environmentally sound but stylish as well!
The long sleeved t shirt made by Fully Stoked is available in soft and muted colours like greys, whites, etc. The material used is 100% combed cotton which gives the ultimate in comfort as well as softness. In fact, the fabric comes pre shrunk which minimises the chances of further shrinking so that you can get the exact fit that you had originally bought the garment in! The sleeves and bottom hems are double needled to add to the durability.
Short sleeved shirts of Fully Stoked are made of 100% certified organic cotton and the coloured t shirts are actually dyed with Oeko Tex 100 Eco dyes which guarantee colour sustainability and fastness. Shoulder to shoulder taping is used for reinforcing which offers durability and increases the standard of quality. The shirts are manufactured in a carbon neutral factory.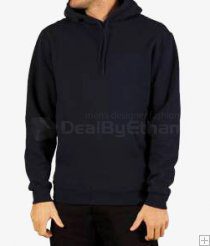 Fully Stoked manufactures sweatshirts with long sleeves as well as hoodies. All of these are lightweight. The material used for the sweatshirt is a mix of 20% polyester and 80% cotton and the fabric is anti pill. The same material and fabric is used for hoodies as well and can be worn for the entire day comfortably. The kangaroo pocket and shoestring cord are standard features of their hoodies. The hood is lined with cotton.
For a closer look at the range of Fully Stoked menswear visit us at Deal by Ethan today where we offer amazing and mind blowing discounts and deals! Hurry!!