WildmanT swimwear and underwear can evoke mixed feelings within you anytime and every time you slip into any of their creations. True to its name, the brand is wild and exotic both at the same time. In fact, most users love the brand because it possesses all the requisite qualities that are a must for any swimwear and underwear, such as exotic designs, unique cuts and superior quality fabric.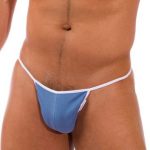 WildmanT'S underwear and swimwear are created with a simple intention-to make the wearer look hot, feel sexy and comfortable, in a manner which he may not have experienced before. The entire WildmanT range is designed to help the wearer unleash his wild, dark and extravagant side. The brand is way too different when compared to its competitors and nothing absolutely nothing can match their capabilities.
The moment the wearer reveals his WildmanT underwear before his girlfriend or wife, he leaves her aroused so much so that she ends up appreciating the brand for its make, quality and style. So, if you haven't yet tried Wildman T underwear before, then its time you did, especially if you are planning to get a pair of underwear for yourself.
Wildman T is every inch different and can spark lust in the wearer's mind and body for sure. The brand has always focussed on creating designs that have never been introduced before by any other mens underwear brand. Men who are fond of the enhanced pouch look and who do not shy from revealing their back either, will definitely like Wildman T range of underwear for they are unique in every sense.
The brand created quite a sensation when they launched the Ball Lifter collection of underwear for the first time. Almost everyone, right from the wearer to ace fashion designers wanted to have a look and feel of this particular collection announced by Wildman T. Today, the brand is the proud manufacturer of a various other styles including, enhancing underwear, suspension jock underwear, push-up underwear as well as the cock-ring style swimwear.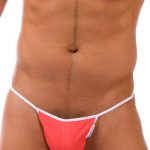 The product that is being reviewed here is WildmanT Underwear Micro Thong. This particular design is remarkably comfortable and completely admirable. It is made from the highest quality fabric and has been created to uplift the wearer's package and appearance, like never before. The pouch of this underwear is roomy and breathable and its waistband is neither too tight nor too loose, ensuring that the underwear remains on your body and does not slip off.
You can find a range of Wildman T underwear on our site DealbyEthan and avail exciting discounts right now!