Australian brand Cocksox has ushered a new era in the men's fashion industry by introducing meticulously crafted designs. The brand was launched with the sole intention of giving men the opportunity to break free and slip into sensuous, extremely stylish and above all comfortable underwear. The makers of this brand have always believed in bringing in new designs and what really sets them apart from other brands is its special pouch design. Almost every Cocksox piece has a unique pouch design that helps the wearer lift and support his asset really well. Men who love to don the enhanced pouch look will love and praise Cocksox designs for sure.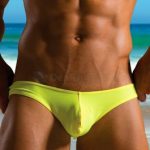 The brand has introduced two different styles in pouches including the Cocksox Original pouch and the Cocksox Snug pouch style. While the Cocksox Original pouch style is slightly larger and is capable of uplifting your assets more, the sung pouch does not enhance your pouch as much but can offer amazing comfort and support that one seeks in underwear. The reason why the brand is admired by ace designers and men from different walks of life is because it uses the highest quality of fabric at the time of designing underwear. For years now, the brand has been widely appreciated by men for it provides them a lot of room and freedom of movement.
Cocksox underwear is crafted from Supplex, which is very breathable, soft and colorfast synthetic fabric that possesses high wicking properties. The Cocksox swimwear for men is made from a mix of classic Lycra and Lycra-Nylon fabric that offers a lot of comfort to the wearer, the moment he slips into it. What more the fabric is durable, colorfast and stretches easily. Men across the globe appreciate the fabric for it is very smooth to touch and capable of resisting chlorine resistant. In a nutshell, the brand is a deadly combination of high quality fabric, innovative design and advanced technology.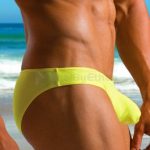 The product being discussed here is the Cocksox Classic Brief Swimwear Reef Gold. This swimwear brief is perfect for that pool party or beach activity that you may be planning to indulge in. Designed from plain color fabric, it also features the Cocksox logo on the back, which essentially imparts the product its unique look. It is made from a mix of 80% Nylon and 20% Lycra and features a waistband, made of elastic.
You can search for other Cocksox range of underwear and swimwear at DealbyEthan.com and grab exciting offers and discounts today!