When you are relaxing or lounging, you hate to wear those tight uncomfortable outfits that do not allow your skin to breathe. You always look around for apparel, which will never compromise with your comfort zone. Especially during the scorching summer days, a light and cool outfit is just what you need to keep yourself at ease. When you come to select your pants, you follow the same rule. No matter how stylish they are, an exceptionally tight pair of pants finds its place in the unused corner of your wardrobe. To meet the varied demands to metro sexual men, Modus Vivendi made its entry in to the fashion world in the year 1989.
Eminent designer Christos Bibitsos believes in designing outfits that are not only classy and stylish but also provide utmost comfort. Using supreme fabrics, the brand has quickly made its way into the wardrobes of numerous fashion conscious men. Modus Vivendi produces a variety of menswear like boxer brief underwear, brief underwear, G-string underwear, jock strap underwear, loose boxer shorts underwear, shorts, shorts swimwear, square cut trunk swimwear, bikini swimwear, boardshorts beachwear, bodysuits, long sleeved T-shirts, pants, short-sleeved T-shirts, muscle top T shirts and other mens apparel.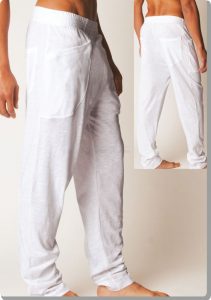 The popularity behind Modus Vivendi Apollo Ancient Loose Comfort Fit Pants lies in its design and the fabric that is used for making it. The fabric is made from pure cotton, which keeps you comfortable all the time. Moreover, cotton protects your skin from rashes and other skin infections. The white shade is quite soothing and elevates your comfort during the hot summer days. It is designed in a way that allows you to wear this apparel at different casual gatherings.
Are you eager to get these Modus Vivendi Apollo Ancient Loose Comfort Fit Pants? Well, come to our website DealByEthan. Our website offers great discounts on various stylish and sexy mens apparel.