Big Roger underwear line is the sister company of Sweat menswear's and has been launched recently. Get in touch with your senses by wearing underwear from Big Roger. Their designs and prints are such that you will get a feeling of warmth when you just take a look at their creations! Wearing them will make you feel confident and free as never before!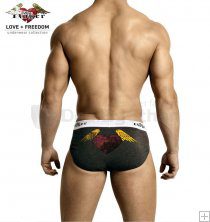 Big Roger underwear line manufactures styles of men's underwear like brief underwear, boxer brief underwear and jock strap underwear, etc. You will be able to make a selection from many variations.
Their boxer brief underwear is low rise and perfectly contoured to give a great look to the appearance of the wearer. The waistband is in white with the graphic logo of Big Roger on it. The design is sporty and stylish and very body conscious. The legs are short, which provides ease of motion as well as comfort. The material used is a mix of 8% spandex and 92% cotton, which provides both warble comfort and washing durability. The graphics on the underwear are bold, clean cut and sexy.
The brief underwear of Big Roger has the same features as their boxer brief underwear. There is a logo of a winged heart in gold and deep red which makes for a sexy addition and is placed right at the centre of the brief's rear. The back and sides of the underwear are seamless, making them perfectly low profile to wear under your clothes. The pouch of the underwear is single layer, which makes the support low profile. The material uses a mix of cotton and spandex, making it perfect to be worn all day due to the superior comfort and stretchability.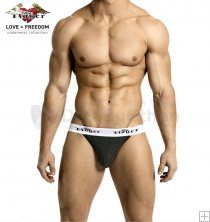 Jockstrap underwear from Big Roger is sexy and low rise and the waistband is in white with the logo of the brand in bold graphics. This style of underwear not only shows off your goods, but hides the waistband of the underwear from been revealed when low rise jeans are worn. The comfort factor and super softness of the jock strap make it perfect to be worn during any strenuous physical activity. You can maintain great shape and fit with the help of Big Roger jock strap underwear.
Browse through the entire collection of Big Roger underwear only at Deal by Ethan and get great discounts and offers! Rush now!!