Worn simply or underneath button down shirts or polo T shirts, short sleeved T shirts are apt for both athletic and casual activities. They are extremely popular among men because they provide optimum comfort and come in varied styles and cuts. With necklines in V or round shape, a short sleeved T shirt is a popular fashion staple among men everywhere. Among the different brands in the market, KLeN Laundry is a popular menswear brand.
Since its launch in California, KLeN Laundry has carved a niche for itself in the men's fashion industry. Designing fashionable menswear made from environment friendly materials, their designer creations are meant to make you "Look good. Feel good. Do good."   Offering the right fit, style, comfort and appeal that today's fashion forward men look for in their designer clothing, this American based fashion house is widely sought after by men of all ages and of varied fashion preferences. Besides short sleeved T shirts, the brand also offers chic and smart boxer brief underwear, brief underwear and socks for males everywhere.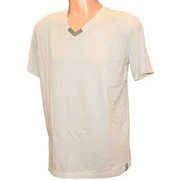 Among their varied offerings, their Klen V Neck Short Sleeved T Shirt is ideal for every day wear! Offered in three standard manly colours – black, brown and white, this short sleeved T shirt is tremendously light in weight and soft to touch. Like all their other outfits, the materials used in the construction of this fashionable tee are bamboo, organic cotton and spandex. Sporting a cool and trendy V neckline, the use of this moisture wicking blend makes sure you stay dry and comfortable during the most strenuous tasks. In addition, the skin friendly fabric blend also possesses odour-resistant and anti bacterial properties, making this short sleeved T shirt offering both health and fashion benefits as well.
Offering a stretchable and close fit that contours your body perfectly, it provides an excellent range of movement and support throughout the whole day. Featuring contrast flatlock stitched shoulder seams that ensure the longevity of the T shirt and prevent it from taking on a sagging appearance this designer tee feels snug and brand new every time you wear it! Designed to complement your casual pants, chinos or jeans, flaunt your well built physique and make a fashion statement in this designer short sleeved T shirt!
To purchase your favourite Klen V Neck Short Sleeved T Shirt, visit our store anytime! At DealByEthan, we have on offer an assortment of stylish KLeN Laundry menswear and other popular men's underwear, swimwear and loungewear at excellent rates!