Thong style of underwear is immensely popular among active metro sexual men because it provides excellent comfort, a fabulous fit and amazing freedom of movement. No longer restricted for special occasions or for the muscular man, thongs have become everyman's favourite underwear these days! If you want to experiment with your underwear fashion and are tired briefs and boxer briefs, give thong underwear from the famous Colt brand a try!
Headquartered in California and a part of California Exotic Novelties, fashionable men's clothing from this American menswear brand is widely sought after by urbane and metro sexual men all over the world. The reason for their rising popularity is the brand's talented designers who are always coming out with attention grabbing and cutting edge underwear designs for men. Knowing full well what looks good on a man's chiselled physique, their designer creations are top quality, visually appealing creations. The brand's unique collections consist of boxer brief underwear, brief underwear and jock strap underwear designs for men.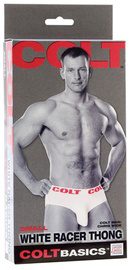 Colt Basic Racer Thong Underwear White SE6910 is one of the brand's signature thong collections.  Available in a solid shade of white, this designer thong is a low-rise stretchy outfit that will complement your conservative business clothing as well as trendy casual wear. Crafted from a superior cotton blend, the thong is a skin-friendly and super-light undergarment. Remaining soft and smooth in every use, the breathable cotton fabric does its work of keeping you sweat-free and fresh on a daily basis! While providing you with a sleek and slim profile, the designers have made sure that you always experience maximum stretchability with this piece of men's clothing. Featuring a double-ply, no-fly front pouch, it offers excellent support for your asset while giving it a nice shape and bulge.
Offering the best user experience, this white thong is suitable for the varied use you can put it through both casual and sports. Defining your masculine body in the most spectacular manner, this underwear from Colt is designed with aim to augment your sex appeal and win the attention and attraction of the opposite sex, so get it now!
Get your Colt Basic Racer Thong Underwear White SE6910 along with other men's underwear at our online store today! You can also take a look at our other collections of swimwear, loungewear and menswear and have your choice delivered directly to your home!