Muscle top T shirts are the most preferred form of clothing for men who like to show off the hard work on their bodies in such skimpily designed outfits. While these men's tops come in the best moisture wicking fabric compositions, they also come with many variations including V shape, round or collar necklines and in an array of colours, styles and cuts. Featuring sleeves or sleeveless design, they are popular wardrobe essentials for the body and image conscious man of today. One such popular brand that is known for quality and distinctive muscle top offering is the European brand Colin Skinwear.
Located in Netherlands and founded by Stefan Colin, the aim of Colin Skinwear is to spice up the menswear market with sexy and stylish creations that are a departure from conventional and conservative concepts and designs. With the objective to highlight a male's features in the most flattering manner, their designers create sensually appealing as well as comfortable menswear. Boasting of top quality design and a seamless fit, their signature collections include stylish short sleeved T shirts and boxer brief underwear for fashionable men all over the world.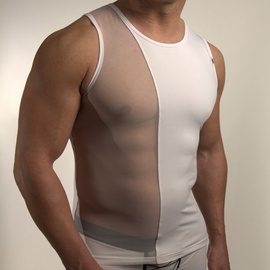 Although all their designer outfits are designed to help you acquire attention and attraction, the Colin Skinwear Accento Muscle Top T Shirt is worth considering if you like flaunting your chiselled body in sexy and sporty muscle tops. Offered in three exciting colours of black, red and white, the material used in the construction of this designer T shirt is a blend of supplex and mesh (polyamide and Lycra). Suitable for all your casual as well as sports activities, the soft and delicate fabric blend makes certain that you have a sweat free and fresh experience all day long! Sporting a round neckline, the durable and stretchable muscle top T shirt offers a figure-hugging close fit for its wearer.
In addition to the roomy armholes, this muscle top has been fashioned to augment your sex appeal to the highest level through a sexy mesh design that offers a teasing appearance of your well-sculpted body for everyone around you! Offering comfort and pleasure, this cool and chic muscle top is for the men with style, so get one for yourself now!
Shop for your favourite Colin Skinwear Accento Muscle Top T Shirt or any other Colin Skinwear menswear at DealByEthan today! We provide the widest range of designer men's underwear, loungewear and swimwear at the most attractive discounts!