For men who want to be swanky and bold, Svenjoyment Hipster Boxer Brief Underwear is the one for you!  Svenjoyment Underwear is designed keeping in mind the needs and demands of modern men. Now, boring and ordinary underwear would not meet the demands of fashion conscious men.  Just like your outer apparel, your underwear has to be different, stylish and comfortable at the same time. Svenjoyment presents its new Hipster Boxer Brief Underwear that provides an equal amount of style and comfort.  Popularly known for its sensuous design, this particular hipster, called the Svenjoyment Cheeky Back Wonder Hipster Boxer Brief Underwear, is popular mainly because of its provocative back design.
Svenjoyment designs for those men who are just not satisfied with a commonplace look and want to enchant everyone and make the world go crazy for them. Now this latest Hipster Boxer Brief Underwear will make heads turn!  The Hipster Boxer Brief Underwear is particularly popular for its unique pouch in front.  In fact, it is this racy look that makes Svenjoyment Hipster Boxer Brief Underwear different from any ordinary underwear. Moreover, the back with its revealing design enhances your sex appeal. Svenjoyment perfectly reads your mind. Therefore, get the opportunity to flaunt your well-toned body in Svenjoyment Cheeky Back Wonder Hipster Boxer Brief Underwear.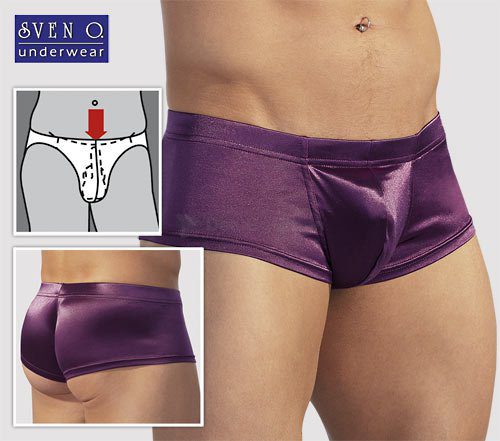 The colour and style of your apparel can either brand you attractive or tacky. Svenjoyment understands your needs. Therefore, it makes the Hipster Boxer Brief Underwear available in a ravishing shade of purple. This Hipster Boxer Brief Underwear is made up of polyamide (90%) and spandex (10%), ensuring maximum stretch and durability. Moreover, these materials enable proper fitting and tightness. This helps in maintaining a proper shape and profile.
Apart from this, Svenjoyment also specializes in bikini underwear, T shirts, jock strap underwear, G string underwear, pouch underwear, thong swimwear, brief underwear, tank top T shirts and many other products. Fashion statements have changed.  Inner apparel is no longer regarded as an unimportant item to be dealt casually. Instead, today's fashion conscious youth are extremely careful when it comes to choosing underwear. So grab your Hipster Boxer Brief Underwear today! You can get this attractive product at our website DealByEthan that offers great discounts on mens apparel!