Men's clothing line has undergone a rapid change in the last few decades. Especially, swimwear were the neglected kind, neither had proper cut nor perfect finish. However, now The Brazilian brand Tulio has made a revolution with the introduction of trendy swimwear that simply make you appear seductive! Tulio Swim Power Pouch Bikini is specially designed keeping in mind your perfectly chiselled body. It is indeed thrilling to visualize yourself in this pouch bikini sunbathing on the beach or getting soaked in waters.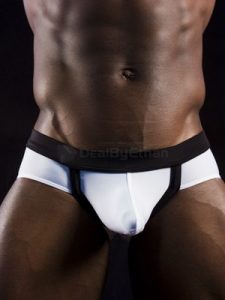 Tulio's pouch bikini has a white background, which is contrasted with a lustrous black stretchable strap that borders the waist and pouch area, giving you the perfect shape you need for swimming.  In fact, this strap holds the weight and draws it backward giving your body the perfect shape.  This bikini has no lining and becomes translucent when wet, making your seductively appealing. So now, appear on the beach in Tulio's pouch bikini and feel the amorous eyes staring at you!
This pouch bikini is made of nylon (85%) and lycra (15%) providing maximum elasticity and stretchability. The presences of these materials make the bikini extremely durable. The perfect cut and finish make the bikini most exclusive. The credit definitely goes to Brazilian designers who create their products keeping in mind the perfectly well toned bodies. Apart from white and black combination, this bikini is also available in camo and black combination. It is also available in different sizes like small, medium and extra large. Therefore, anyone of you planning a beach holiday can grab this bikini and get naughty! Apart from pouch bikini, Tulio also makes G-string swimwear, trunk swimsuits, boxer brief underwear, jock strap underwear, thong underwear, tank top T Shirts, muscle top T Shirts, broad shorts beachwear and many other products. The fabrics used in apparel are of very high quality. So now, spend and get the best products!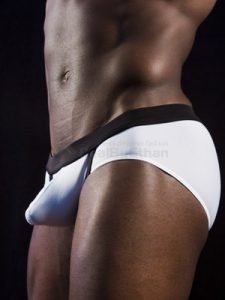 You do not want to be seen on the beach in your old loose swim trunk. You want to be cocky, naughty and at the same time classy. Men who are looking for all these factors, Tulio is your brand! This bikini not only enhances your physique but also makes you feel different. Get soaked in the water in Tulio Swim Power Pouch Bikini and make others lose their senses!
You can grab this unique product at our website DealByEthan that offers nice discounts on men's apparel and accessories!