The 'Obviously' underwear brand is Australia based and their designs and creations are one of a kind. The full cut brief is one of the original designs of brief that the brand had launched since their inception at the very beginning! In brief, the brand's first foray in the market for men's underwear is represented by the brief!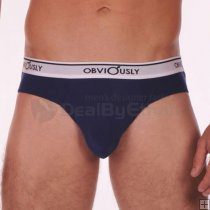 There are some basic colours in the line up- white, black, blue and red from which you can take your pick! The material used to craft the men's underwesar is a blend of lycra and micro modal which is extremely stretchable and very soft. The weight of the fabric is quite low and it is very thin and comfortable for wearing. The waistband is made of micro fibre elastic and is 1 ¼ inches. The waistband does not dig in from the sides as it is extremely soft! The waistband has the brand name repeated around its side. The waistband's interior back does not have any labels or tags attached. The fabric's interior side at the back has one heat-sealed patch which has the wash/ care and basic fabric care information.
The brief has full back coverage with the cut quite generous, which leads to a high rise cut. For those needing some extra back room, this style of men's underwear is quite perfect for you! The brief's side narrows to 1 ¼ inches which does not include the waistband and includes the leg band elastic which is ¼ inches and is fully covered.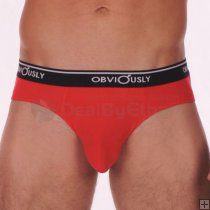 The brief front is encrusted with the 'ergonomic pouch' which is a trademark and pride of most Obviously Underwear lines. The engineering of the pouch is done in a way so that there is a lot of room in the frontal part of the underwear and that you can feel totally comfortable! However, lifting and shaping is affected somewhat but for those who have comfort as the top-most priority in their mind, this Obviously For Men full cut brief is the one for you! The pouch of the underwear is such that you will not feel pulled back or compressed! The deep base makes the curve quite aggressive, giving it a sock-like effect! The fabric at the front is single layered and the thinness adds to the comfort factor further!
Do you want to buy a pair of Obviously For Men full cut briefs? Then visit Deal by Ethan today and avail of our wonderful discounts and offers!