It often seems that California Muscle is a product label that is meant for niche users due to their pleather bodygear. However, they have several options in the mainstream underwear style department as well! One of them is the Maximizer thong which is the topic for discussion here! If you like more coverage then their bikini brief version is the one for you which is also know the "Tempter Brief"!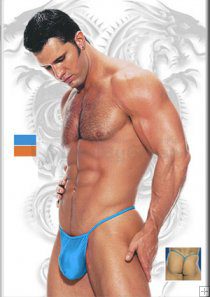 You can get hold of the California Muscle Maximizer thong in a variety of colours like gray, deep magenta and dark olive. The fabric used to craft California Muscle Maximizer thong is a mix of 10% lycra and 90% acetate which is quite "slinky" fabric, if you know what I mean! The mix with acetate provides a different feel to the fabric. The textured surface of the fabric is created with the help of fine ribbing, allowing a molded effect and yielding highly saturated dark colours a slight sheen!
The fit is great and snug as well! Fully covered elastic forms the waistband and measures ¼ inches, and is medium stretchable with some level of tension. The waist's centre-back's interior has a tag made of synthetic material which is almost ribbon like and is unobtrusive and small.
The design of the thong is quite classic and low rise, with the pouch and strap sides reinforced with elastic that are fully covered. Everything is kept snug but nothing is too tight! The centre seam of front pouch is aggressively curved, providing plenty of room in the front, shaping the package.
The inner fabric panel of the California Muscle Maximizer thong is engineered with a c-ring which pulls the package through and provides a significant amount of lift and enhancement! It is good enough even for extended wear. Although the single layer material of the pouch threatens to expose, the dark colours reduce this threat!
There is a sleek look to the cut and the finish textured which quite catches the eye! The fun element is added by the material which is form fitting. The construction is good and has clean seams and the fabric has clean edges. Its usage and functionality is multi-purpose as it can be used for daily wear as well as treated as a speciality item.
To buy a pair of California Muscle Maximizer thong visit us at www.dealbyethan.com and get offers, deals and discounts on a vast range of men's underwear!!