Arroyman underwear is the best bet for men who love to flaunt themselves and look sensuous and erotic to their partner or girlfriend. Those who have a sense of style and love to see themselves in underwear that lifts and emphasizes both the front and the back will certainly appreciate the cut, patterns and prints that are exclusive to Arroyman.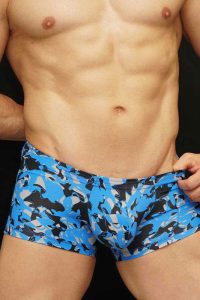 The Arroyman brand has its roots in the beautiful country of Chile. It is here that the brand was established and gradually earned its prominence in the market. This prominence is due to many things, including the use of superior quality fabric for its underwear, club wear and swimwear range of clothing. Arroyman believes in offering superb quality, perfect fit and unique products, which is exactly why it has become so popular in the global market. Arroyman products include underwear, swimwear, bodysuits, T-Shirts, shorts, boxer briefs and sweaters, among others.
Needless to say, the Zebra KDT Boxer Brief underwear is one among many of Arroyman's remarkable creations. Made from 85% smooth Nylon and 15% Elastane Lycra, this sexy zebra print boxer brief has a front enhanced pouch reinforced with elastic that adds to the overall appeal of the underwear. Highly versatile, you can wear these boxer briefs to the gym, at home or at the beach. This particular model has a low rise pouch with an attractive cut that highlights your assets beautifully. Your partner will find it difficult to resist you in these!
So, hurry and get yourself a pair of these enticing Arroyman Zebra print KDT boxer briefs at DealByEthan.com now while supplies last!