Body Language Fashions is quite true to its name – it defines a new language of the body through the fashionable and innovative men's underwear that it manufactures. It was 1992 when Body Language Fashions came into existence. Houston, Texas is where it originated and till date, all the products of the brand are manufactured there and exported to other countries and continents.
Despite the fact that their apparel is produced in the USA and exported elsewhere, the prices of their products do not put a dent in your pocket and are quite reasonable. The high level of quality control maintained by the company makes their products high class and of good quality. The main priority and aim lies in the satisfaction of the brand's customers.
Body Language Fashions manufactures different types of sexy men's underwear like thong underwear, boxer brief underwear, bikini underwear, etc.
The style and cut of the bikini style underwear of Body Language Fashions is like no other! It is low cut, sexy and innovative. While the material used in some lines lends a shiny and attractive finish to the garment, others give a matte affect. The prints are bold and colours used are fun and vibrant, giving you a piece that is attractive and reflecting the fun side of a man. Some of the cuts and styles are innovative and sets the underwear apart from the rest!
Body Language Fashions' boxer brief underwear is full of boyish charm which is quite unlike other manufacturers. The cut offers full coverage to all your parts including the back, so if you are the shy type then this underwear is perfect for you! The material used lends a sheen to the underwear, which is not too much on the eyes but at the same time, ups the sexy quotient of the underwear as well as the wearer!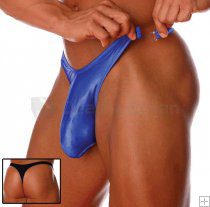 The thong underwear of Body Language Fashions is also one of a kind with the use of bold colours like vivid red, vibrant blue, etc. There is underwear which is absolutely normal with no frills, and there is also underwear that offers some uniqueness and differs from the rest. For example, the breakaway thong underwear offers a difference with its concept of a detachable front! Available in a number colours and prints the underwear is very comfortable.
To look at the full collection of underwear by Body Language Fashions visit Deal by Ethan today!