When you decide to shop for your loungewear, you always consider comfort to be the most essential factor. If you are selecting a pair of lounge pants, you need to consider the design and the shape so that you can relax and remain comfortable all the time, but you must be careful to pick loungewear that is made from high quality, breathable fabric. Moreover, it should be provided with adjustable drawstrings or a soft elastic waist strap for added support and comfort.  While picking a pair of lounge pants, you also tend to pick one that is loose and lightweight, so you can relax and recline comfortably.
Propaganda can be regarded as one of those special brands that strive to fulfil your needs and requirements. With a team of ace designers, it has created some comfortable, stylish and attention grabbing mens apparel that is liked by men instantly! Their apparel is available in varied sizes and different colour combinations. Any Propaganda outfit is sure to boost your sex appeal!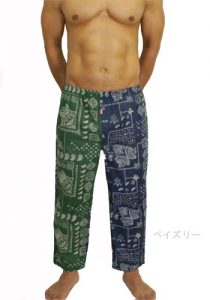 Propaganda offers a wide range of men's outfits like tank top T shirts, short sleeved T shirts, short sleeved shirts, muscle top T shirts, pants, long sleeved T shirts, long sleeved shirts, hats, sweaters and windbreakers – all created in Japan. They also design a variety of men's underwear and swimwear like boxer brief underwear, brief underwear, jock strap underwear, loose boxer shorts underwear, long underwear pants, shorts, shorts swimwear; square cut trunk swimwear, boardshorts beachwear and bikini swimwear. Their bags are also quite chic.
If you are planning to get some comfortable yet stylish loungewear there's nothing better than Propaganda Paisley Steteco Loungewear. This pair of lounge pants is made from pure, soft and breathable cotton, providing you maximum comfort. The most eye catching factor of this loungewear is its unique patterns and dual colour combinations.
You can get Propaganda Paisley Steteco Loungewear at our website DealByEthan, which offers amazing discounts on various fashionable menswear as well.