It is not at all surprising to see how millions are spent by apparel brands to hire eminent designers for creating top-class trendy T shirts that are in great demand, because T shirts are designed to provide utmost comfort and offer a casual and trendy look.
Initially, when T shirts came into fashion after the Second World War, there were not many variations in designs. People, influenced by the new US Army uniform, started procuring them as they became quite stylish. However, over the years, looking at the demands and requirements of men, the T shirt has been evolved a lot and presently, varieties like tank top T shirts, short sleeved T shirts, long sleeved T shirts and muscle top T shirts are now available. It will not be wrong to say that the T shirt is a necessary part of any stylish man's wardrobe.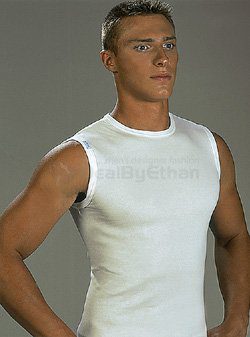 Among the different T shirt designs, the muscle top T shirt is preferred by most men.  The body-hugging, tight and sleeveless design gives you the ideal opportunity to flaunt your sculpted muscles. Just set your eyes on a Lord Sleeveless Muscle Top T shirt! Any man will love its sleeveless design instantly! It can be worn with a casual pair of pants or jeans and its white colour is perfect for almost any occasion. This muscle top T shirt is made from pure cotton, assuring maximum comfort and ease. The absence of elastic does not matter much. The special knitting ensures that this T shirt will tightly adhere to the body, making your curves quite prominent! This muscle top T shirt is also devoid of side seams.
Maker of some stylish men's underwear and other outfits, Lords Underwear is a well known brand in the fashion world. This brand is from Greece and is famous for using high quality fabrics that ensure complete comfort to the wearer. Apart from cotton, they also use viscose, modal and bamboo for creating their outfits. This brand designs a variety of menswear like tank top T shirts, short sleeved T shirts, muscle top T shirts, loose boxer shorts underwear, long underwear pants, long sleeved T shirts, G string underwear, brief underwear and boxer brief underwear.
If you are keen on grabbing a Lord Sleeveless Muscle Top T shirt for yourself, visit our website DealByEthan today! Our site provides nice discounts on various types of mens apparel as well!