It is only in recent times that stylish men have shifted their glance to the latest and trendy underwear styles that are available in the market. It will not be an exaggeration to say that even though chic sheer designs are all the rage, boxer brief underwear is still preferred by men a lot. The reason behind this is the enhanced and spacious pouch style, which gives maximum support to your package and secondly, this underwear ensures a snug fit, and is thus chosen by athletes and sportsmen. Long boxer brief underwear is designed to reach up to the knees and tightly clings to the body. So, men who are not comfortable wearing revealing underwear generally choose long boxer brief underwear.
Jockey is one brand that creates some trendy and comfortable long boxer brief underwear. Samuel Thrall Cooper laid the foundation of the brand Jockey in 1876. Actually, he started a hosiery business called S.T. Cooper & Sons. His main intention was to help lumberjacks who needed better socks. Years of effort and devotion led to the creation of the present brand Jockey which delivers their products in almost 120 countries around the world. Jockey designs a wide range of menwear like bikini underwear, boxer brief underwear, brief underwear, jock strap underwear, long boxer brief underwear, loose boxer shorts underwear, multi-packs, trousers, short sleeved T shirts and tank top T shirts.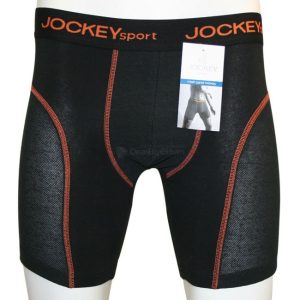 Jockey Active Sport Midway Trunk Long Boxer Brief Underwear is designed with just one major intention – to give the wearer maximum support and comfort. For those who indulge in regular fitness workout sessions, this boxer brief underwear may serve to be the perfect underwear as it absorbs sweat well, keeping you dry and comfortable the entire day. It is designed with minimum seaming and the sides are seam free to offer more comfort. The soft and stretchable waist strap with breathable mesh panels provides added support and extra comfort. Apart from black, you can get Jockey Active Sport Midway Trunk Long Boxer Brief Underwear in navy blue  as well.
You can pick up some Jockey Active Sport Midway Trunk Long Boxer Brief Underwear from our website DealByeEthan. Our site offers nice discounts on stylish and sexy men's underwear, swimwear, loungewear and other mens apparel.