Addiction can happen at any time anywhere for anything. But if we are talking about addiction for sexy men's underwear then Addicted underwear will get you addicted like nothing else! Born in the Spanish city of Barcelona, Addicted underwear has the Spanish tang and spice that few men's underwear brands have. When you look at their various styles, you will instantly fall in love with this brand of underwear for men and that is a guarantee!
Addicted underwear manufactures a vast variety of men's underwear like brief underwear, boxer brief underwear, shorts, long boxer brief underwear, jockstrap underwear, etc. All of their styles are unique and extremely comfortable.
Boxer brief underwear by Addicted is available in two basic ranges- the classic and spotlight. Addicted classic boxer brief underwear is composed of material that is a blend of 5% elastane and 95% cotton. The design is low rise and gives the wearer a contoured fit. The wide waistband has the Addicted signature on it. The spotlight collection is made of a material that is mix of 5% spandex and 95% cotton. Their underwear for men is given an athletic look with a stripe design on the side.
Brief underwear by Addicted is available in ranges like classic, push up and mesh. The features of the classic as well as push up style are as the names suggest, and their mesh style is also made of mesh. The mesh is composed of 100% polyester and is extremely breathable, light and soft.
Jockstrap underwear by Addicted also features the normal sporty kind as well as the push up kind which adds to the look of the wearer. There are fun and vibrant colours to choose from, and the material used for the push up jockstrap underwear is a mix of 5% spandex and 95% cotton.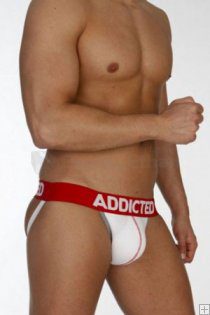 For those who want a little bit more in the underwear that they are wearing there is the athletic long boxer brief underwear made by Addicted which is protective, comforting and soft. It will provide support and protection during strenuous physical activities and is the perfect accompaniment for any sporting activities. The fit is fantastic and looks great as well. The material used is a blend of 5% spandex and 95% cotton and is the perfect mix of stretchability and comfort!
For a better and more in depth look at Addicted underwear visit us at Deal by Ethan today and get attractive discounts as well!