All men want underwear that fits perfectly and elevates our comfort level. If our inner apparel lacks any one quality, it is neither proper nor suitable for daily use. Jockstrap underwear came into fashion during the 19th century and since then has remained quite popular among men. The main reason behind the popularity of jockstraps is the snug fit and the edgy cut that enables free movement of the legs. This particular underwear provides adequate support to your package and even allows you to embark in fitness or other athletic feats without any difficulty. The jockstrap ensures perfect tightness and maximum protection to your package. Since jockstraps came into vogue, quite a number of brands have been experimenting with the design. Renowned designers are always trying to bring out something new, something different that would have the power to bring the real man out of you.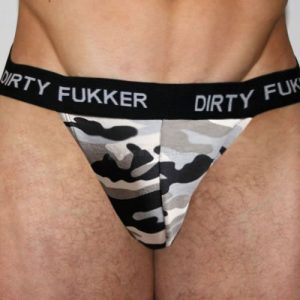 Dirty Fukker, a well-known line from England has been producing exclusive jockstraps that are not only trendy but also comfortable. A fleeting glance at Dirty Fukker Camouflage Jock Strap Underwear proves the above point. Generally, jockstraps are made from synthetic fabric that retains the tight elasticity of the underwear, but Dirty Fukker jockstrap is bit different. The fabric that goes in making this jockstrap consists of combed cotton (92%) and lycra (8%). Cotton ensures utmost comfort and protects the skin from rashes and infections and lycra ensures stretchability. The presence of a spacious pouch provides maximum support and a broad waist strap ensures the snug fit of the jockstrap. The brand logo on the waist strap also gives you a nice opportunity to flaunt the waist strap from under your pants. So, get ready to enhance your sizzling looks in this camouflage-shaded jockstrap. Apart from jockstap underwear, this particular brand also creates boxer brief underwear, brief underwear and beanies.
You can find your Dirty Fukker Camouflage Jock Strap Underwear at our website DealByEthan, which offers great discounts on fashionable mens apparel. Get your jockstrap today!