We all want to feel comfortable and relaxed when we go to bed, but what if you could throw a little pleasure in the mix? Wouldn`t falling asleep be the ultimate ending of the day then, like curling up in bed with your loved one? There is a way to achieve this feeling of joy: the black N2N Bodywear Dream Hoodie . This loungewear garment is specifically designed to provide you with a feeling of well-being and relaxation so superior that it actually transcends comfort.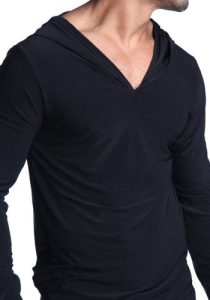 How is something like this possible, you may ask? Well, N2N has pulled all of its resources together and created a garment made from a blend of 92% polyester and 8 %spandex that the human skin perceives as highly pleasurable, soft, silky and dreamy. It caresses your body until you dive into the land of dreams feeling completely unrestrained and satisfied. Waking up in this will leave you feeling rested and happy. This hoodie is so fine, it`ll make you feel like royalty.
When observed aesthetically, this hoodie even looks fabulous; it is silky, sexy and casual. There`s hardly a more stylish garment to sleep in.
Once you've slept in the N2N Bodywear Dream Hoodie, there`s no turning back. It`s simply addictive. Get yours today at DealByEthan.com and sleep like royalty every night.