Muscle top T shirts are particularly apt for men who have nicely buffed bodies and want to show them off in figure hugging apparel. Designed to show off the wearer's physique and his personal style in the most appealing manner, stylish and modish muscle tops can be worn to the gym, nightclub or other casual settings. With a variety of styles to suit any preference and available through a number of popular online retailers from North America to Europe to Australia and Asia, the brand name Doreanse ranks high in the fashion industry.
Since its inception in 1999, this Turkey based fashion label has captured a large chunk of the men's fashion market by offering different and diverse selection of menswear designs and styles to fashion oriented men all over the world. Unique designer creations from this leading menswear brand are highly popular not only because of their sporty and fashion-forward designs but also for providing the ultimate in comfort and quality. Besides muscle top T shirts, Doreanse is also famous for its bikini underwear, bodysuits, boxer brief underwear, brief underwear, G string underwear, jockstrap underwear, long sleeved T shirts, long underwear pants, short sleeved T shirts, tank top T shirts and thong underwear for men.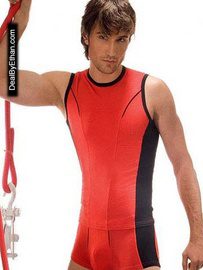 Crafted from a fabric blend of modal, cotton and lycra and presented in red with contrasting black lining, Doreanse Slit Muscle Top T Shirt Red is the ultimate in softness, durability and breathability! While the presence of modal and cotton in the fabric composition helps to increase the longevity of the garment and keep the T shirt airy and lightweight, the elastane provides you with the necessary stretch ability and makes sure that the T shirt perfectly conforms to your body shape and sculpts it to create a flattering appearance. Oozing sex appeal, the flattering fit and cut of the top also contribute immensely in enhancing your masculinity! Whether you wear it for your gym sessions or to the beach, teamed with your trousers, jeans, chinos or khaki you can look sexy and sporty or casual and hip in this designer muscle top!
To own a Doreanse Slit Muscle Top T Shirt, simply check out the wide range of Doreanse outfits on offer at DealByEthan today! We have available the different and diverse selection of branded men's underwear, swimwear, loungewear and stylish men's underwear for men of all ages at customer-friendly rates!