Don't all guys want to look attractive and seductive everywhere…from the beach to the boardroom and of course the bed? I think this is the reason why men's swimwear designers have become increasingly conscious and are coming up with innovations in every style of men's swimwear. Some of the cuts in men's swimwear include swimwear shorts, which are more like the boxers in men's swimwear. In fact they look very much like the boxer men's underwear, where the legs are of mid-thigh length and have soft, elastic on the waist. Most swimwear shorts men's don't have a fly.
There are a number of top men's swimwear fashion brands which have recently introduced men's swim shorts in their collection. It may be true that men's swim shorts are not the most popular amongst the 4 cuts in men's swimwear, swim shorts still have a very loyal following and there are some guys who would any day prefer to be seen in this silhouette.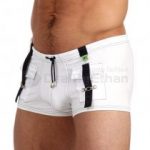 Swimwear shorts can be men's sexy garment which offer total comfort as well as enhance your precious attributes. You will feel comfortable in them in the home swimming pool, a packed beach or just sunbathing on the deck of a luxurious cruise ship. I understand…it's not easy to select when purchasing this men's wear, but you can make it simple by logging on at DealByEthan.com which has a large collection of the most enticing and vibrant swimwear shorts for men. Like in other cuts shorts swimwear also have numerous options…so don't get disheartened if you are only comfortable in shorts and also want to attract attention!
It is possible that you want to look hot and seductive… but are not sure if it is possible with swimwear shorts…it is…with a new range of body contouring designs which are available in the market. In fact you can make a style statement as well as look gorgeous with this men's swimwear! There is something for each one of you guys who want to look scintillating in the swimwear shorts, men's comfortable swimsuit. This suits men of all ages with whatever body shape you have.
Are you aware… the latest trends in men's swimwear is the board shorts, which is versatile and also offers you a classic sexy look.  You will feel young and casual in the latest colors available on many online stores such as DealByEthan and you know what…all the other men will be looking at you! They are typically made from fast dry material such as nylon, micro fiber, polyester and cotton blends, which makes them exceptionally comfortable. Some of the well known brands include Olympia, Cargo and Rocky Nylon. Double stitching makes them exceptionally durable.
Swimwear short for men can be as versatile as any other style and you can pick your own style to look smashing as well as feel comfortable and confidant.  Adaptability is one of the main features of the swimwear shorts and this tennis shorts inspired men's swimwear is sure to get you a glance too many when you are on the beach!
Discover the ultimate range of men's underwear and swimwear as well as men's grooming and accessory products which a man must have at DealByEthan.com. It is really unique and different and that actually shows. Eric Salo is the co-owner of DealByEthan, which as one of finest online collections of daring and baring men's underwear and swimwear available today. It is all about men's fashion…with a focus on how guys can look confident and sexy in underwear and swimwear. The best thing about DealByEthan men's collection is that they offer contemporary designs from the top men's underwear and swimwear brands. DealByEthan continues to include men's underwear and swimwear brands which will appeal to the new breed of body and fashion conscious men.