With changing trends in fashion industry, men's underwear segment also underwent rapid change. Fashion designers created underwear focussing on the needs and requirements of men. Nowadays, various underwear designs are available to men that not only provide maximum comfort but also suit different personalities. Among the wide range of underwear designs, brief underwear is quite popular among men. Brief underwear came into fashion a long time back and is still chosen by men for the snug-fit and the design that provides athletic support.
In recent times, many brands are coming up with unique and innovative designs of brief underwear that find a place in men's wardrobes straight away. It will not be an exaggeration to consider Elite Unlimited as one such brand that produces some exlusive and trendy men's underwear. Besides brief underwear, this brand creates some modish bikini underwear, boxer brief underwear, jock strap underwear, long boxer brief underwear, thong underwear, etc. Being one of the leading brands of South America, Elite Unlimited uses only premium fabrics for creating all of its mens apparel. Moreover, the exclusive designs and the vibrant colour combinations of underwear are liked by fashionable men.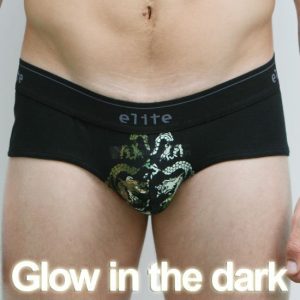 If you set your eyes on the Elite Underwear Brief, you will understand the reason for its popularity among men. This brief underwear is made from very high-quality fabric that consists of cotton (93%) and spandex (7%). Cotton keeps the wearer comfortable all the time, protecting his skin from rashes and itching. Spandex ensures the tightness and elasticity of this underwear.  The fabric is also heat reactive. Since, this underwear is made from high-class fabrics, it is long lasting. Look at the Tokyo Black color and the shimmer that emits from the fabric! It has a roomy pouch and the fabric in the pouch area retains luster that glows and can even change its colour. The presence of the brand name on the broad waist strap makes this underwear even more exclusive.
You can find Elite Underwear Brief at our website DealByEthan, which offers amazing discounts on men's underwear, mens loungewear, swimwear and other men's outfits.