In the past, the choice in men's underwear was rather limited, including only boxers and standard V-style briefs. Today, however, you can find underwear designed for various needs and in a wide array of styles. In addition to standard designs, sports underwear that fits tightly and does not feature seams is now available, as well as underwear with hidden pockets to keep money and other valuables and underwear that support the genital region. So, there is a wide range to choose from, and since underwear is such a vital part of a man's wardrobe, it is important to take the time to choose stylish, comfortable, cost effective and functional underwear that is appropriate to your particular needs.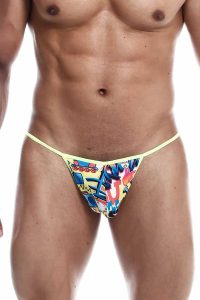 Different materials are used to make underwear for men, including cotton, nylon, Lycra, spandex and silk. Be sure to select the material that best suits you, the climate you are living in and your body type. Some people are allergic to materials such as nylon or Lycra, so experiment by buying just one pair of underwear made of each type of fabric in order to determine which one suits you best before buying more.
It is also important to choose underwear appropriate to the climate you live in. For example, if you live in a hot climate, cotton underwear is recommended. If, on the other hand, you live in a cold climate, Lycra or wool underwear is the best choice. Select close fitting underwear for maximum comfort. Check and make certain that the waistband is neither too tight nor too loose.
Even though underwear is not seen, it is one of the most important garments, and it is essential to choose high quality, branded underwear for best results. Avoid at all costs cheap, generic underwear. Research and find a brand you can trust that provides you with the best fitting underwear specific to your body type. In order to determine your exact size, it is recommended to try out one or two pairs before purchasing more. Choose boxers for chilling out on the weekends, sports underwear for outdoor activities and any one of the many standard designs to wear at the office.
Briefs have been used by men for ages now. This traditional men's underwear style features a Y-shaped front fly and covers the entire waist, buttocks and genital region. This underwear is ideal for those who prefer simplicity and comfort in their underwear. Low-rise and mid-rise briefs, on the other hand, have waistbands that start from three inches and two inches below the waist, respectively. If you are fond of low-rise jeans, either one of these styles are terrific choices.
If you are looking for maximum comfort, boxers, which feature straight-cut leg openings and cover the buttocks, frontal region and upper thighs, are an excellent choice. Boxers are usually ten to sixteen inches in length, while boxer briefs are essentially a cross between the brief and the boxer. Generally made of either cotton or spandex, boxer briefs are also extremely comfortable undergarments and are worn during sporting activities, as well as with tight-fitting pants.
Men's underwear with waistbands that begin below the belly button are worn during swimming, but are also worn with tight trousers and low rise jeans. If you have an amazing body, you can wear thongs that are even more scant than swimwear. Choose bright and solid colors in spandex or nylon blends to look your most stunning.
There are various online stores that sell men's underwear. Browse through the various styles and brands and choose those best suited to your needs.