Tribe has redefined men's underwear with their form-fitting, sexy, ultra-comfortable underwear and swimwear.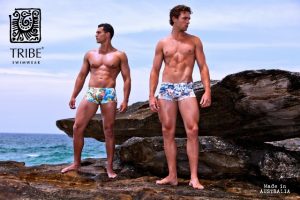 Tribe underwear and swimwear are produced in Australia from new age fabrics created from polyelastane blends that provide the ultimate in comfort and durability. The sporty swimwear line includes trunks, shorts, briefs and long shorts, while the underwear collection hosts long and short boxers, standard briefs  and trunks. Tribe underwear helps you discover the side of you that's sexy and uber cool. Who says you have to grow up? Look naughty even at forty in long swim shorts or boxers that look cool at any age. For the Gen Y – experiment with zany skull prints or printed meshes that get the juices flowing and adrenaline pumping in no time!
Hot, somber, wild, perky, naughty, or coolly in control -spice up your love life and catch her attention by trying one of Tribe's amazing products. So, what are you waiting for? Browse through the entire Tribe underwear and swimwear collection at DealByEthan.com today!