Looking back, one can hardly deny the fact that men have very little option when it came to choosing the designs of their underwear or swimwear earlier. In present times however, we see a completely different picture. Fashion designers who earlier neglected this segment of menswear are paying immense attention to it now. A lot of effort is being put in to bring out the most stylish and trendiest underwear or swimwear that will be loved by metro sexual men in urbana. This has also resulted in the creation of some daring and novel swimwear like bikini swimwear, which was designed keeping in mind the chiselled and well-toned physique of men.
Bikini swimwear became popular among men because of its skimpy design that made men look hot and ravishing on the beach or at the pool. Moreover, the design has also helped to elevate the comfort level of men. Well known brands like XTG Extreme Game use high-quality fabric for creating this swimwear. Thus, the wearer can be assured of its durability. Look at the sexy and stylish XTG Bikini Swimwear range! Apart from its design, this particular swimwear has become popular among men because of the premium fabric that is used for creating this swimwear.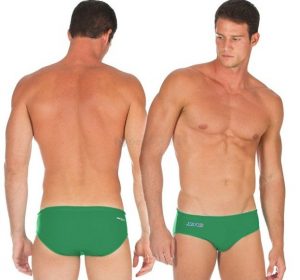 While wearing swimwear on the beach, men face one major problem. Generally, sand particles get stuck between the fibres of the fabric that is used for making the swimwear. This causes immense discomfort. One of the advantageous features of XTG Bikini Swimwear is that it prevents sand particles from entering the fibres because the swimwear is made from high-quality fabric. Since "XTRA LIFE LYCRA" is present in the fabric, it helps to retain the stretchability, tightness and the shape even in rough waters. Even the presence of chlorine does not spoil the elasticity and shape of this swimwear. The extra thin fabric dries off easily and provides protection against the harmful rays of the sun. Soft and comfortable – this is the swimwear that every man needs.
XTG Extreme Game, a well-known Spanish brand designs various stylish men's underwear and swimwear. Luis Mentado Medina and Lenita Burman started it in the year 1987. Presently, this brand has gained worldwide popularity for bringing out chic and trendy menswear. Besides, bikini swimwear, this brand also produces boxer brief underwear, brief underwear, loose boxer shorts underwear, square cut trunk swimwear, shorts swimwear; board shorts beachwear, shorts, tank top T shirts, long underwear pants, long sleeved T shirts, short sleeved T shirts, short sleeved shirts, muscle top T shirts, pants and other outfits.
You can find XTG Bikini Swimwear and other fashionable menswear at out website DealByEthan. Our site offers nice discounts on different mens apparel.