Are you looking for underwear cuts and styles that accentuate your male assets? Do you want to woo your partner by donning a bold and enticing pair of underwear? Then take a look at the Arroyman range. Arroyman has a variety of sexy, comfortable underwear available in vibrant, non-fade colors and arousing styles.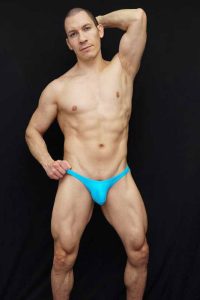 Arroyman is based in the spectacular country of Chile, and it's wide range of garments includes bikini underwear, boxer briefs, swimwear, T shirts and much more. Arroyman is renowned for its use of Lycra, nylon and spandex in its swimwear and underwear collections, and it is this superior fabric technology and the brand's unique designs that make Arroyman garments both subtle and sexy.
Arroyman Enhancement Bikini Underwear in Turquoise has been designed specifically for men who want underwear that is both form-fitting and revealing. The pouch offers perfect support while enhancing your male assets, and the sexy cut provides your backside with just the right amount of lift. Available in all sizes, this bikini highlights the contours of your body and is highly comfortable, making it ideal to wear at any time, including at the gym.
So, don't wait a second longer. Order your Arroyman Enhancement Bikini Underwear in Turquoise today at DealByEthan.com!