Well chosen cufflinks are for the man who possesses an out-of-this-world ability to discover the smallest details and perceive what others don`t. This ability gives you an advantage over others. They don`t know it, but there are reasons why they admire your iconic appearance, why you induce shockwaves of pleasure in observers, and one of those reasons is related to the stunning cufflinks you wear.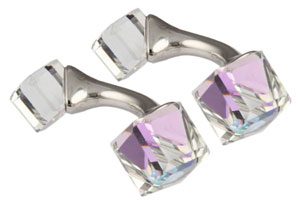 Picking the right cufflinks is a science in and of itself, but with Mousie Bean, it`s hard to go wrong. If truth be told, there will always seem to be a better match (thanks to the extensive collection of Mousie Bean cufflinks, if nothing else), but Mousie Bean designer, Stanislav Reymer, is a well of inspiration and pumps out new ideas daily, so you'll never run out of new cufflinks to try. The way he transforms those ideas into a reality is incredible, and his cufflinks are a true gift to any man looking for a unique way to present himself.
Mousie Bean cufflinks are one of those things that you`ll never be able to give up once you start using them. Ultimately, leaving the house without them will make you feel like you`re walking around naked through Times Square during rush hour.
Even if all you want is to give someone a special present that shows them how much you care, Mousie Bean cufflinks make the perfect gift that`s always unique and breathtaking.
Become a visionary trend setter by purchasing a pair of cufflinks from the Mousie Bean collection at DealByEthan.com today!