The Bulgarian fashion brand that manufactures sexy men's underwear as well as swimwear is the ultimate symbol of prestige, style and comfort. They have been making and breaking traditions for the past 15 years. The underwear manufactured is provocative and sexy, combining modern design, precise work and high quality materials. The brand has taken over the European and Bulgarian market by storm and is influencing the Australian market and tastes as well!
New collections are available during the spring and summer time each year which brings into focus the newest traditions and style in men's underwear. The company was established in 1995 and the collection of the brand may vary from sporty and simple designs to luxurious and sexy designs.
If you really want to know what all the fuss is about, then just go and grab a pair of Geronimo bikini underwear or swimwear! You can get umpteen types of patterns to suit your tastes and moods. Their mix of different colours to create unique patterns is eye-catching and totally creative. The material used for the slip bikini underwear and swimwear is 9% elastane and 91% polyamide-micro. Some are also crafted from materials in mix of 20% lycra and 80% polyamide as well as 5% elastane and 95% viscose which results in an extremely comfortable and fitted pair of men's underwear.
The brief underwear manufactured by Geronimo is one of a kind as well! The underwear is a wonderful mix of comfort and style, which catches the eyes and makes the wearer the centre of all attraction! The mix of 20% lycra and 80% polyamide makes the underwear fitted and at the same time, when wet the underwear can dry off very quickly as well.
If you want the ultimate g strings then there can be no better choice for you than Geronimo! Get them in a variety of bright and vivid colours that attract and garner attention! These g strings from Geronimo offer the ultimate comfort and give great support and enhancement. Do you often feel embarrassed and conscious of supposed visible lines panty lines or peeking underwear when wearing low rise jeans or fitted trousers? Then the perfect solution lies in wearing Geronimo g strings!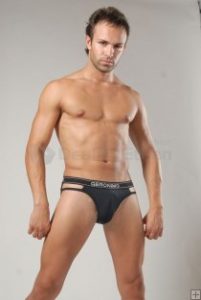 Sporty males should try the Geronimo Jock strap underwear which is made of a mix of 9% spandex and 91% bamboo charcoal polyester and gives the ultimate feeling of comfort and cosiness along with the requisite protection.
Visit www.dealbyethan.com today to get amazing discounts and offers.