XLX Collection of menswear is all about fashion, fun and style. The brand has been incepted with the idea of providing men with high-quality, innovative and stylish products that are truly amazing to both look at and wear. The XLX Collection of mens apparel includes Boxer Brief Underwear, Brief Underwear, Jock Strap Underwear, Muscle Top T Shirts, Thong Underwear and Mesh Panel Muscle Top T Shirt among others. So, whether you are looking for gym wear or even if you are planning to don one of their funky looking T-shirts, you can safely invest in XLX collection and move around in complete style and freedom.
The brand has a totally different approach when it comes to designing and reaching their target customers. As far as designing is concerned, they focus on creating exceptional and high-quality products that are a class apart. On the other hand, when it comes to meeting their customers' expectations they simply focus on paying heed to the specific requirements of their customers. The makers of the brand do not believe in confining themselves. Instead, they work really hard to create out of the box designs that offer comfort and right amount of support at the same time. The designing team at Olaf Benz uses a lot of creativity, skill and sensibility to create a wide variety of underwear.
AT XLX Collection men can search for a wide variety of t-shirts and underwear that allow them to make their own fashion statement. The brand also focuses on providing men with high-quality materials so that ensures that their skin is always well protected. The designers at XLX Collection are completely aware of the fact that while some men find the task of selecting underwear and other kinds of apparels easy, other do their analysis and research to identify a brand that is best for them and meets their exact requirements.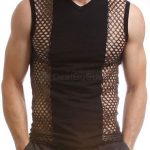 If you are planning to wear XLX Collection apparel then try getting the XLX Collection Muscle Shirt for yourself. This shirt can be easily worn to the gym. It is made of fabric, which is basically a blend of 88% Cotton an about 12% Elastane. It is a sexy mesh panel muscle shirt that is simply unique. This muscle shirt has been designed to last really long. It is soft, light-weight and very comfortable. You can club this muscle short with a pair of long boxer shorts or even a Capri.
You can order XLX Collection Muscle Shirt at our website DealByEthan which provides a wide variety of mens underwear and swimwear!