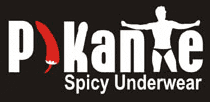 Yeah, the title reflects urban dictionary explanations of the word spicy. The word that best describes Pikante underwear line. Wanna know what it`s all about? Being proud as a peacock with your underwear, raising eyebrows, hypnotizing others with color and style.
Pikante underwear is here to make a statement: it won`t be conquered, or told what to do. Just like you, right? There`s nothing subtle about that at all. This underwear is made from wild and crazy stuff. Now, don`t get us wrong, it`s quite comfortable, but it`s major concern is not that Zen. It`s supposed to provoke, irritate, catch attention.  Now, you`re not always going to get a most positive response, but we guarantee, you will get a response. But what do you care what kind of response it is, you just love the attention, right?
| | | |
| --- | --- | --- |
| | Don`t believe us? Just check out Pikante Mesh G-string and say it`s not provocative.  Now, just to show you what are hypnotic colors, check out Pikante Arabesque Boxer Grape. See what we mean? Talk about painting someone a picture about what you are… You could say that Pikante designs are unique, but that would be an understatement. Their design is extraordinary, on the verge of eccentric. | |
And Pikante doesn`t leave you hanging, you can choose from Pikante bikini underwear (you can`t get much more style and rhythm than with Pikante Egyptian bikini), boxer briefs (we recommend you check out the Sweet lines cheeky boxers), briefs, g-strings, jock straps and thongs.
About the author: DealByEthan.com is a leader in men's fashion shopping. With thousands of products from hundreds of brands they are proud to offer customers a shopping experience that is hard to beat. Imagine a choice of literally thousands of sexy men's underwear, men's swimwear, men's t-shirts, men's jewelry and men's accessories at one shop. Save time and effort and drop by now at http://www.dealbyethan.com.