What may work for others may not work for you. This is exactly why when you're planning to get underwear for yourself, you should listen only to yourself and no one else. If you are looking for the right amount of support for your assets and wish to flaunt your package and physique, you must take a look at the Pikante range of underwear once!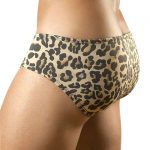 Pikante is hot, stylish and sexy and encompasses all the qualities and features that one generally expects jockstrap underwear to have. Pikante can leave you hypnotized, thanks to the design and color combinations that the brand combines together to create its jockstrap range. Pikante can leave you totally mesmerized and give you the power to make your own style statement. Those who have used Pikante jockstraps earlier can identify the brand without even noticing its logo and through its sheer quality, colour and pattern.
Pikante has analyzed man's psychology very well and they have come to the conclusion that men want to feel good in underwear. If they don't find underwear that is comfortable and soft on their skin, they will shun it. This is precisely why the brand uses good quality fabric and waistband material to put together designs that are capable of winning their hearts the very instance men look at their underwear.
In order to provide men with something that is even more exotic and terrific, Pikante has launched its collection for 2011. Their latest collection has already received rave reviews from fashion experts and ace designers. The collection is targeted at more conventional men who are not afraid of trying the bold and different.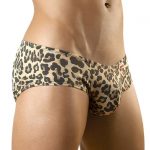 If you're keen on undertaking the Pikante journey, then grab the Pikante Jaguar Brief Underwear as soon as possible. Available in beige colour this brief is every inch funky, exciting and colourful. Pikante has used fabric of the highest and finest quality i.e. 93% Polyester and 7% Spandex to create this particular underwear for men. The jaguar print of the underwear is good enough for impressing men who love bold, daring and different patterns. If you are the adventurous type then there is absolutely no reason why you won't like this brief. It enhances your package and provides enough room so that the wearer can move around in it freely.
You can find Pikante Jaguar Brief Underwear at our website DealByEthan which offers exciting discounts on wide range of men's apparel!