The sizzling and spicy underwear collection of Pikante has been challenging the boundaries of fashion and redefining the conventions that are associated with it. The styles are so bold and daring that they are bound to raise some eyebrows amongst traditionalists. The range of style and colours will surely hypnotise you! It is provocative and attention grabbing! All of this without compromising on the comfort factor!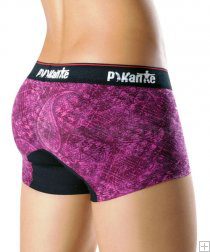 The styles of underwear that Pikante produces include boxer brief underwear, bikini underwear, brief underwear, jock strap underwear, thong underwear, g string underwear, etc. The brand also produces tank top t shirts.
The bikini underwear has various kinds of patterns in vibrant colours for you to choose from! There is the nuclear and tiger collection. The tiger collection focuses on animal prints while the nuclear has clearly urban reflections.
The boxer brief underwear has so many different varieties that you feel spoilt and confused to choose amongst them. There are various ranges like cheeky, kinky camouflage, forest camouflage, nuclear cheeky, delta, tiger cheeky, arabesque, cotty etc. The material used to craft this style of men's underwear is a blend of 6% spandex, 33% cotton and 61% polyester. This mix is perfect for all day comfort even while performing all kinds of strenuous activities, and in fact the stretch factor makes it great to perform physical, activities as they offer good leg space and stretchability.
The brief underwear of Pikante boasts of great and unique styles that are seldom seen elsewhere. They are available in funky and sporty colours and are made of a mix of 7% spandex and 93% polyester.
Pikante's g string underwear is made of entirely mesh but with a twist! They are not made of solid colours but there are printed ones available as well! In fact, the printed ones help them avoid being absolutely see through! For those you want to add on the sexy and erotic factor can select the snake stone print which is not only hot but totally fun and unique! The mesh is made out of a mix of 4% spandex and 96% nylon which gives extreme comfort.
Even their jockstrap underwear is available in normal and mesh types and the mesh types come with a twist! The pouch is of mesh and the waistband printed! Totally unique!
The arabesque range is great with its fabric of blend of 7% spandex, 37% polyester and 56% cotton and unique pattern.
To get a glimpse of the entire range of Pikante underwear browse through Deal by Ethan today!!