The German underwear brand MANstore Guywear comes from the Olaf Benz stable and the brand has carved a name for itself for manufacturing super sexy underwear which can be worn for almost any occasion!
The various types of articles under sale by MANstore Guywear includes boxer brief underwear, bodysuits, brief underwear, jock strap underwear, g string underwear, muscle top t shirts, long sleeved t shirts, tank top t shirts, short sleeved shirts, etc.
The boxer brief can be had of different colours, prints and materials. There are boxer briefs of mesh made of 6% elastane and 94% polyamide but those who are conservative can look at those made of a blend of 10% elastane and 90% polyamide. The brand has different ranges like Apropo, Pool, Glitter, Zip pants, mini pants, Sprint, Push up, Bungee, Lasso, etc. These different styles are geared to be worn under pants, beachwear, briefs, etc. to give you great volume and make your profile look great!
One of the notable features of MANstore Guywear underwear is the Tarzan strap, which resembles a cockring and is a fabric made which initiates gentle but effective working. The method works as a great alternative to plastic or metal rings as it is very soft.
The Glitter range allows you to literally shine! The fabric is semi-transparent and gossamer, entirely covered with tiny dots that are reflecting. The fabric is a mix of 20% elastane and 80% polyamide.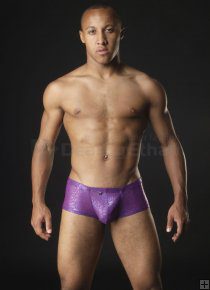 Their hip brief underwear is composed of a mix of 10% elastane and 90% polyamide. There are a variety of styles in various colours but their particular hip brief, mini pants and tower string range has a tiny bowtie decorating the tower string or the waistband! In fact, there is an additional surprise when you buy underwear from these ranges – you will be given a MANstore necklace that has two miniature wedding rings. Yes! You heard it right!
You can also get your hands on the lacquer cover collection, which is a fetishist range and super sexy. The cover is brilliantly shiny and the sheen does not lose its effect even with frequent washing. Direct contact with skin creams and oils will not affect the glassy material! The blend of the material is 8% elastane and 92% polyester.
Their jockstrap style of men's underwear boasts of super soft and highly elastic material which is very comfortable. To browse through the entire collection of MANstore Guywear visit Deal by Ethan today!