The 100% Australian underwear brand Tribe Underwear is designed and made in Australia and this comparatively new brand is redefining fashion rules with its offering of sexy, fun  and funky men's underwear. The fabrics are soft and the styles of the underwear are sexy and flattering.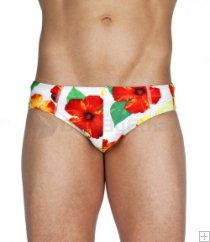 The point that differentiates this brand from other underwear brands is the fact that the material and fabrics used to craft the underwear are unconventional, thus offering unique and edgy underwear! The fabrics they use include new generation polyestane blends which boast of the properties of natural fibres like cotton but without losing or fading of colour over a period of time.
Tribe Underwear also produces conventional styles of swimwear and underwear like brief underwear, boxer brief underwear, square cut trunk swimwear and bikini swimwear in a variety of colours and patterns.
Their swim brief is low rise and the cut is slim which gives a lean effect. The back is fully covered and the waist elastic is 25mm, and some of the styles have drawstrings which offer a superior fit. The fully lined fabric offers no chance of being see-through once wet! There are a multitude of options in colours and patterns of styles.
Their boxer brief underwear gives you choices galore as well with many kinds of colours and patterns to choose from. The design is aimed to give you perfect fit and highlight all the right aspects of your physique. The fabric used is a mix of modal and spandex and the air flow and moisture regain qualities are 50% more than ordinary cotton making the underwear perfect for sporting activities or all day wear. On top of that, the fabric is anti-crease and despite repeated washing, the brilliant colours will not fade.
Brief underwear made by Tribe Underwear is available in two basic types- made of mesh and another quite normal which does not offer any 'insight'! The style resembles trunks and the cut is wider. The masculine style is aimed at suiting all body types.
The fabric of square cut trunk swimwear is fully lined and perfect for the beach or pool. The swimwear is modelled and styled on European swim shorts. The prints are many and varied. There are solid coloured, ones with side stripes and others with prints that remind you of the sand, surf and skies of beachside holiday destinations!
Visit Deal by Ethan today to go through the entire range of Tribe Underwear and get amazing discounts!